BUY ONLINE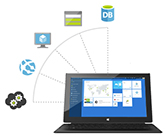 How Microsoft Azure can be used by your customers:
Build and deploy modern, cross platform web and mobile applications
Store, backup and recover your data in the cloud
Run your enterprise applications on Azure
Run large scale compute jobs and perform powerful predictive analytics
Encode, store and stream audio and video at scale
Build intelligent products and services leveraging Internet of Things services
Features and Benefits of Microsoft Azure
Get more done
Any developer or IT professional can be productive with Azure. The integrated tools, pre-built templates and managed services make it easier to build and manage enterprise, mobile, Web and Internet of Things (IoT) apps faster, using skills you already have and technologies you already know.
Use an open and flexible cloud service platform
Azure supports the broadest selection of operating systems, programming languages, frameworks, tools, databases and devices. Azure cloud service supports the same technologies millions of developers and IT professionals already rely on and trust.
Scale as you need, pay as you go
Azure's pay-as-you-go services can quickly scale up or down to match demand, so you only pay for what you use. Per-minute billing and a commitment to match competitor prices for popular infrastructure services like compute, storage and bandwidth mean you're always getting unbeatable price for performance.
Protect your data
Microsoft has made an industry-leading commitment to the protection and privacy of your data. Microsoft were the first cloud provider recognized by the European Union's data protection authorities for our commitment to rigorous EU privacy laws.
Make smarter decisions
Azure's predictive analytics services, including Machine Learning, Cortana Analytics and Stream Analytics, are redefining business intelligence. Make smarter decisions, improve customer service and uncover new business possibilities from your structured, unstructured and streaming Internet of Things data.
Contact ASBIS office in your country to get more information about Microsoft Azure