BUY ONLINE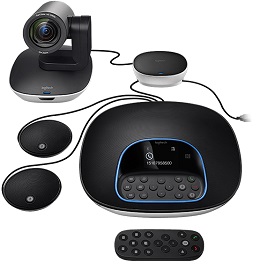 Logitech GROUP Conference camera system
The main difference between cameras is the support of extension microphones which allows GROUP to be used in larger conference rooms than ever before. GROUP is the ultimate scalable Conference solution for Mid to Large conference rooms.
The new camera is available from Logitech as of the end of February, but due to the shortage during roll-out it will be allocated on approval basis.
Outstanding video conferences
Imagine a meeting where everyone is seen and heard. GROUP delivers this with exceptionally sharp video quality and a masterfully designed, full-duplex speakerphone.
Easy to deploy and use
Group video conferencing system is simple to set up and use. USB plug-and-play connections make video meetings easy.
Works with leading applications
Continue to work within your own computing environment. GROUP is compatible with most video software applications – including the ones you're already using.Certified for Skype for Business™ Certified, Optimized for Microsoft® Lync, Cisco Jabber® and WebEx® compatible.
Hassle-free meeting room bundle
The Logitech Group Kit with Intel® NUC, configured and validated for performance and compatibility with the VC apps you already use, provides a robust, easy-to-use video conferencing solution that is easy-to-buy and affordable for every room.
Additional features
Large groups
GROUP is ideal for mid- to large-size video conferences. If you have a larger room or larger groups, the optional expansion mics will extend the audio range to 8.5m or 28 feet.
Sharp video quality
This video system offers HD 1080p video quality at 30 frames-per-second.
Clear audio quality
GROUP has full-duplex speakerphone with life-like sound that's crisp, clear, and highly intelligible.
90-degree field of view
Everyone can be seen with the 90-degree field of view. Focus on speaker, material, or whiteboard with mechanical 260-degree pan and 130-degree tilt
Remote control
You have two ways to operate the camera's pan, tilt, and zoom functions, or the speakerphone's volume up/down and answer/hang-up. Control these functions on the speakerphone console or with remote control. Keep track of the remote by docking it in the console when not in use.
Five camera presets
Multiple camera presets make it easy to frame and focus the lens on frequently used views – such as the conference table, whiteboard, and close-ups – and quickly return to each view at the touch of a button.