Hitachi Global Storage Technologies (Hitachi GST) began shipment of its fourth-generation 7,200 RPM mobile hard drive, the Travelstar™ 7K320.The new drive delivers 60 percent higher capacity than its predecessor, while improving application performance by 12 percent and power consumption by 22 percent.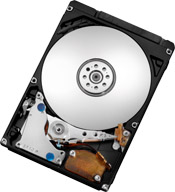 The drive's quiet acoustics improve the experience of watching movies or listening to music on a notebook PC. The 2.5-inch drive is offered with optional Bulk Data Encryption for users wanting increased data security. Hitachi also plans to ship enhanced-availability (EA) models, designed to provide high-capacity storage for low-duty-cycle, 24x7 applications.
The performance attributes of the Travelstar 7K320 allow consumers to opt for a full-featured notebook or compact desktop model, while still achieving all the capacity and performance typically associated with a more traditional desktop PC. The new drives bring forth a number of essential features that are in strong demand from manufacturers of notebooks, compact desktops, gaming systems, blade servers and video surveillance systems. Some of these attributes include best-in-class operating shock protection of 400Gs, 5,400 RPM-equivalent power consumption and quiet acoustics.
"As operating systems have grown more complex, users have struggled with an overall decrease in system performance," said Larry Swezey, director, Consumer and Commercial HDD, Hitachi Global Storage Technologies. "Solid state drives (SSD) have yet to deliver an overall increase in speed, and certainly not at an affordable price. The 7,200 RPM speed of the Travelstar 7K320 provides an improved overall experience, at the capacities users want and at a far lower cost than SSD."
Gartner is predicting worldwide mobile PC shipments will surpass global desk-based PC shipments in the second half of 2009. This evolution has been driven by the ever improving performance-for-price of mobile PCs, relative to desktop PCs. Hitachi believes the greater availability of 7,200 RPM hard drives will help accelerate this trend, as more users realize the benefits of combining desktop-class performance with the convenience and portability of a notebook.
Availability
The Travelstar 7K320 is now shipping to customers worldwide. The enhanced-availability version of the drive is expected to ship in the third quarter of 2008.