BUY ONLINE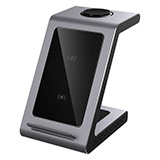 ReVolt A9
Prestigio ReVolt A9 wireless charging station is compatible with Samsung and Android smartphones, and other gadgets that support Qi standard. The design of the charger is thought out to the smallest details. It is equipped not only with an inductive spot for the smartphone itself, but also with a special module for charging wireless headphones, and a built-in charger for a Galaxy Watch. All three portable devices can be charged simultaneously. An adapter with 18 W power, supplied with the charger, provides all the devices with sufficient power.
The wireless technology used in the charger makes it possible to charge the device by placing it on the surface of the station. Charging pads for each gadget have enough capacity: 10W - for the smartphone, 5W - for the wireless headphones, and 2.5W - for Galaxy Watch. The built-in LED indicators will show the charge status of each gadget.
ReVolt A9 supports both vertical and horizontal charging modes. It is not necessary to interrupt any video watching while using Prestigio ReVolt A9 if the smartphone is almost dead. You can continue watching a movie or video clip at a comfortable viewing angle after its installation on the docking station.
The new Prestigio docking station is very compact and user-friendly. The minimalistic charger, made of metal and tempered glass, will not take up much space and will look stylish both in the office interior and in the home environment.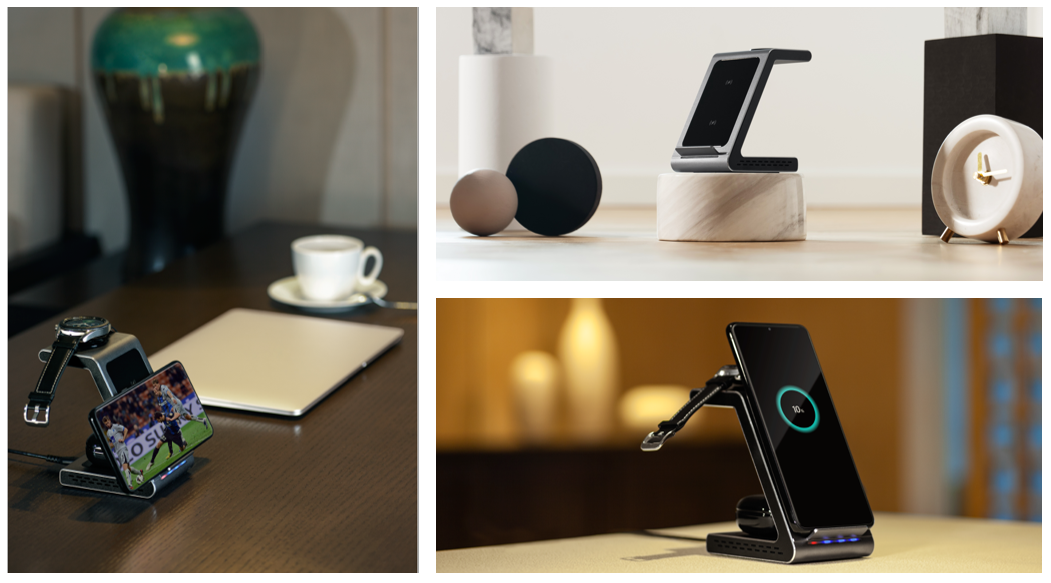 The Prestigio ReVolt A9 wireless charger is a perfect solution for those who appreciate modern design and comfort.

About Prestigio
Prestigio is an international brand that has been offering a wide range of consumer electronics for home, education, and business for more than 20 years. The company sells products in 30 countries around the world, with over 25 million devices sold during its history.
The brand's products include smart devices and accessories, innovative solutions for business and education. Prestigio introduced the world's first interactive keyboard with touchpad on keys, as well as smart speakers, portable acoustic systems, hidden wireless chargers, graphene-based power banks, and this is just the beginning. The company's slogan for launching new products is 'The art of hi-tech', as special attention is paid to innovation, high-quality premium materials, and modern technology.
The Prestigio brand is owned by ASBISC Enterprises Plc., one of the leading IT product distributors in the EMEA markets. It has production, design, and technical facilities in Europe, China, and Belarus. Prestigio has offices in 15 countries in various regions, including the CIS, Ukraine, Europe, Middle East, and Africa.