Quantum has launched LTO-3 HH tape drive which provides the fastest native transfer rate of any half-height drive at 245GB/hr while offering up to 400GB of native capacity. Its simple half-height form factor allows easy installation and integration into your datacenter.
The LTO-3 HH tape drive is backward read and write compatible with LTO-2 media and backward read compatible with LTO-1 media. All with Quantum's exclusive reliability features including:
- SmartVerify™ virtually eliminates the need for a traditional verify pass during backup, reducing the backup window and increasing data integrity
- FastSense™ matches tape drive speed to that of the host, optimizing performance and increasing reliability
- Dynamic PowerDown™ protects the tape drive and data cartridge during unexpected power loss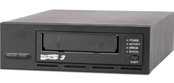 LTO-3 HH tape drive solutions deliver compressed capacities of 800GB and backup speeds of up to 324 GB/hr, all in a half-height form factor. They are read/write compatible to LTO-2 and provide seamless upgrades to LTO-4, for exceptional investment protection.
Quantum "Backup Ready" certified solutions allow you to go from box-to-backup in minutes with the highly reliable Quantum LTO-3 HH tape drive, world-class Backup Exec™ QuickStart software and durable Quantum media. "Backup Ready" solutions are cost-effective, easy to install and fully-supported by Quantum. Choose the Quantum LTO-3 HH tape drive configuration that is right for your IT environment, a server-installable internal, convenient tabletop or space-efficient rackmount.