SAPPHIRE Technology – the world leading manufacturer and supplier of PC graphics cards and mainboards has just introduced the first in a new line of lifestyle computer products – the SAPPHIRE Edge-HD Mini PC.
The Sapphire EDGE-HD Mini PC is believed to be the smallest PC in the world with its slim, stylish outline. At less than half a litre in volume, it is slimmer and smaller than most wireless access points – in fact around the size of a paperback book! Its stylish design and simple pedestal mount make it equally at home next to a TV or business monitor whilst unobtrusively occupying the minimum of desk or shelf space.
But don't let its size fool you – it is a fully featured PC for home, education or business use. Specifications include a second generation 1.66GHz dual core processor, 2GB of memory, a 250GB hard drive and built in wireless connectivity as well as high speed LAN port and four USB ports. It provides high resolution graphics output with a full HD (1920x1080) HDMI interface (HDMI cable and HDMI-DVI adaptors supplied) as well as a VGA monitor output and it has built-in audio with mic-in and line-out sockets. All of this makes it more than capable of handling day to day Office tasks as well as streaming video or browsing the Internet.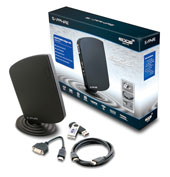 Another way in which the Mini PC is a top scorer is in power efficiency. Consuming only around 22W under load, the SAPPHIRE Edge-HD Mini PC uses around 10 times less power than a typical desktop PC – and less than most notebooks – making it one of the Greenest PC solutions available. Power and space savings alone can justify switching to Mini PC for many businesses*.
The SAPPHIRE Edge-HD Mini PC is ideal for integration into an office or education environment. The user or system integrator has a free choice of design for keyboard or mouse, which can be either wireless or USB connected. The Edge-HD is supplied pre-installed with FREE DOS – ready for the reseller or end user to install the preferred choice of operating system. It is fully compatible with Microsoft Windows7, Vista or Windows XP. All appropriate drivers are supplied on a USB memory stick.
SAPPHIRE Edge-HD Specifications:


| | |
| --- | --- |
| Item | Description |
| CPU | Intel Atom D510 1.66GHz with 1 MB Cache |
| RAM | 2GB - DDR2-800 |
| Storage | 2.5'' SATA 250GB HDD |
| Graphics | nVidia ION2 with 512MB RAM |
| LAN | Built-in Ethernet supporting 10/100/1000 Mbps |
| WIFI | Built-in WIFI supporting IEEE 802.11 b/g/n |
| I/O | VGA x1, HDMI x1, RJ45x 1, 4 x USB 2.0 Ports, Audio-In x1, Line Out x1 |
| Power | AC 100~240V 50/60Hz,19v~3.42A 65W |
| Monitor | Supplied separately |
| Keyboard/Mouse | Supplied separately |
| Dimensions | 19.3(L) X 14.8(W) X 2.2(H) cm |
| Weight | 530g |
| Operating System | Pre-installed with FREE DOS; Supports Win7/Vista/WinXP® |
--
*Appendix – power savings estimate
At current power costs, investment in Mini PC for full-time business can be recovered in one year approx by energy savings alone.
Power@15 Euro cents / KWh (source http://www.biomassenergycentre.org.uk )
Cost to power regular PC = 250W x 24 h = 6 KWh /day = 0.9 Euros /day = 330 Euros / year !
Cost to power Mini PC = 22 W x 24 h = 0.53 KWh /day = 7.9 c /day = 28.8 Euros / year
Saving over 300 Euros / year !
Plus further savings in cost of office real estate.
Related news about SAPPHIRE products