Second-generation perpendicular recording technology drives capacity to 450GB with blazing 164MB per second transfer rate, exceptional reliability and lower power consumption
Seagate Technology announced its Cheetah® 15K.6 hard drive, the newest generation of Seagate's award-winning enterprise Cheetah family. Built for the most demanding transaction-intensive enterprise servers and storage systems, the Cheetah 15K.6 is the highest-performance hard drive ever in a 3.5-inch form factor, with a 28% increase in sustained data transfer rates compared to its previous generation drives.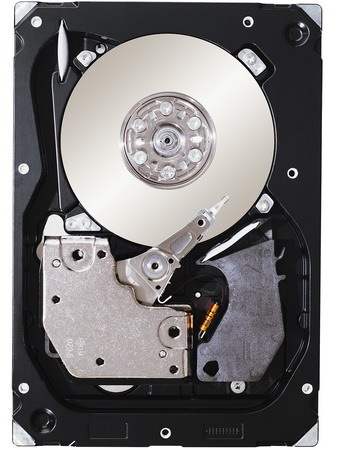 Using second-generation perpendicular recording technology and available in capacities of 450GB, 300GB, and 147GB, the new Cheetah 15K.6 provides an unprecedented blend of storage capacity and performance. Add to this the highest 3.5-inch hard drive reliability in the industry at 1.6 million hours MTBF (0.55% AFR), a choice of Serial Attached SCSI (SAS) or Fibre Channel (FC) interfaces, and a five-year limited warranty, and the Cheetah 15K.6 hard drive becomes the clear choice for mission critical 3.5-inch SAN, NAS, and other transactional processing and internet applications.
"With the Cheetah 15K.6's combination of high performance, capacity, and optimized power utilization, it is ideal for demanding transactional and energy-constrained data center environments," said Sherman Black, Seagate senior vice president and general manager, Enterprise Compute Business. "As enterprises continue to grow in volume and scale, Seagate remains committed to delivering the industry's most trusted enterprise hard drives to fulfill these demanding needs."
The Cheetah 15K.6 includes Seagate PowerTrim™ technology which dynamically optimizes drive power consumption at all levels of activity. With PowerTrim technology, the Cheetah 15K.6 delivers the highest performance in its class without increasing power consumption. The Cheetah 15K.6 lowers idle and
operational power requirements from its prior generation – as much as 61% in watts/GB – while increasing overall sustained data transfer rates by 28% at 164MB/sec.
The Cheetah 15K.6 is scheduled to begin shipping worldwide in Q1 2008.
To learn more about how Seagate is connecting people with their content, check out our online media kit plus the latest podcasts and videoblogs, now available online at http://www.seagate.eastwick.com/newsroom/