Seagate announced the Fall 2008 lineup of the company's award-winning FreeAgent™ external hard drives. This new generation of the Seagate® FreeAgent™ family includes attractive desktop and mobile options, for both Mac® and Windows® operated PCs that make it a breeze to back up, share and protect valuable digital content like photos, videos and music.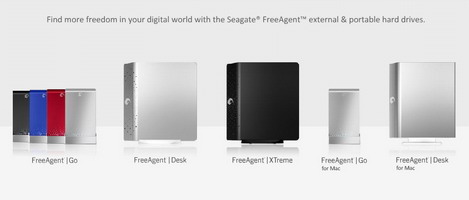 Seagate's flagship offering, the FreeAgent Go portable storage solution, is the slimmest external drive available today. At a height of only 12.5mm, the new FreeAgent Go easily fits in a pocket while still including all the advanced shock and vibration protection people have come to expect from Seagate.
Another industry first, the new FreeAgent Go is the first external hard drive to offer a docking option, providing a practical way to move from the desk to the road, while leaving the hassle of fumbling with cables and locating USB ports to the history books.
With up to 500GB of capacity, the FreeAgent Go bridges the gap between standard portable solutions and desktop solutions with enough storage to carry entire libraries of movies, pictures and music. No longer does one need to sacrifice capacity for portability, Seagate FreeAgent Go provides the benefits and convenience of both in a truly seamless on-the-go package.
"The growth of the 2.5-inch form factor external hard disk drive market has been very strong – almost doubling in 2Q08 compared with 2Q07," said Wolfgang Schlichting, research director, Removable Storage at IDC. "This growth is much higher than the overall market and driven by the products' convenient size and connectivity, as well as their large storage capacity and affordability."
The FreeAgent Go desktop docking station is sold separately and comes paired with a black leatherette carrying case to add style while protecting the drive from the bumps and scratches encountered while traveling in hand bags and during other on-the-road adventures. The FreeAgent Go is now available in a variety of popular colors, including silver, black, red, and blue. The drive also ships with a flexible, thin USB 2.0 travel cable.
The FreeAgent Desk drive and FreeAgent XTreme™ drive are the family's two 3.5-inch high-capacity desktop offerings, and provide up to 1.5 Terabytes of storage. The sleek and modern design of these drives provides the flexibility to sit horizontally or stand vertically to maximize your workspace. The FreeAgent Desk drive is a brushed aluminum high-capacity solution with a USB 2.0 interface. The FreeAgent XTreme drive is a black, brushed aluminum high-capacity storage solution with a triple interface of eSATA, USB 2.0 and FireWire 400.