The BDR-203BK is our first Blu-ray writer to achieve write speeds of 8X on Single Layer (25GB SL) and Dual Layer (50GB DL) BD-R discs.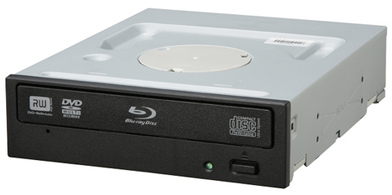 The BDR-203BK is also compatible with a wide range of Blu-ray, DVD-R/RW, +R/RW, DVD-RAM and CD media types, with key specifications also including:
2X write speed for BD-RE (SL and DL)
16X write speed for DVD-R/+R
8X write speed for DVD-R DL/+R DL and
32X write speed for CD-R media.

With strong performance and features to enhance read/write accuracy, the BDR-203BK adds further momentum to the growing demand for Blu-ray devices. Writes up to 8X speed on recordable Blu-ray Discs.
Product highlights:
BD/DVD/CD compatible OPU
The optical pickup unit on the BDR-203BK achieves a maximum recording speed of 8X on Single and Dual Layer BD-R media and 2X on BD-RE Single and Dual Layer rewritable media.
Proprietary high-quality technologies for both BD and DVD discs
A range of technologies are incorporated into the BDR-203BK to enhance read/write capabilities. These include:
Ultra DRA: suppress vibration when reading and writing , a technology based on know-how that Pioneer has been cultivating in the development of DVD writers.
Limited Equalizer LSI : dramatically improves reading reliability
Multi-Effect Liquid Crystal Tilt Compensator: this advances recording and playback characteristics by adding correction to the laser beam which compensates for disc impurities such as titled media and media of various thickness.
Software support
The BDR-203BK includes CyberLink's Blu-ray Disc Suite 6 to enable the creation and playback of BD movies and the creation and playback of DVDs and CDs.
Availability
BDR-203BK will be available soon. Please check back ASBIS B2B e-Shop.
Buy other Pioneer products online at ASBIS B2B e-shop