Super Micro Computer, a leader in application-optimized, high performance server solutions, announced that its latest SuperBlade™ solutions won the Best Green Data Center Solution award at BladeSystems Insight 2008 over such notables as HP, IBM, Dell and Sun. Supermicro DatacenterBlade™ and OfficeBlade™ systems feature 93% power supply efficiency and deliver unprecedented performance-per-watt when combined with Supermicro thermal and design technologies.
"Industry-leading performance combined with unmatched, earth-friendly power efficiency as well as our advanced S3-Blade architecture, make Supermicro SuperBlade™ the best choice for all server environments seeking to optimize both performance and power consumption," said Charles Liang, president and CEO of Supermicro.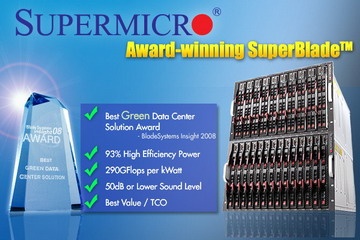 "In today's cost-sensitive market, our superior performance-per-watt blade servers help our customers save up to $6000 on electrical bills per enclosure over three years and reduce their total cost of ownership (TCO). Our DatacenterBlade™ systems typically consume only 160 watts/DP blade under an average Internet Search Engine workload. This energy reduction coupled with the savings from reduced cooling costs, translates into tens of millions of dollars savings for large data centers."
For the ultimate in energy efficiency (93%) and performance-per-watt (290 GFLOPS/kW), Supermicro has introduced the SBI-7425C blade server optimized for its new 14-blade 7U DatacenterBlade™ enclosure (SBE-714D), which is ideal for green data center environments and HPC applications of any size. In addition, the new SBI-7125C blade server in the 10-blade 7U OfficeBlade™ enclosure provides industry-leading energy efficiency and low-noise operation at less than 50dB, making it an excellent choice for office environments or a personal supercomputer.
Performance-per-watt is a measure of computational green efficiency that is calculated as GFLOPS (billions of floating point operations per second) divided by the power consumed (in kW) of a given system. LINPACK, an industry benchmark for HPC systems, is used to measure system performance in GFLOPS. Total power consumption was measured during LINPACK operation. The resulting ratio provides a normalized method to compare the green efficiency between servers.