Super Micro Computer, Inc. (SMCI), a global leader in enterprise computing, storage, networking solutions, and green computing technology, has updated the web and solutions portfolio related to complex SDS Storages based on Supermicro Hardware and Scality RING Software appliance.
Yuri Slukhai, Server Focus Group Leader and BDM in ASBISc Enterprises Plc says: "One of the main solutions for storing unstructured content and media data today is the use of file and object storage systems, which have high scalability and low-cost for storing of 1GB / 1PB of data. And the one of the leaders in this segment of the storage systems market is Scality's solution as a software-defined storage (SDS) – known as Scality RING. The first version of this Storage System was released back in 2010. And today it is a scale-out solution using peer-to-peer communications and a shared-nothing distributed architecture deployed on the x86 servers.
One of the manufacturers who is certifying their solutions for Sсality RING is the American company Supermicro, which offers a specially prepared model line of its server solutions, developed and certified in conjunction with Scality.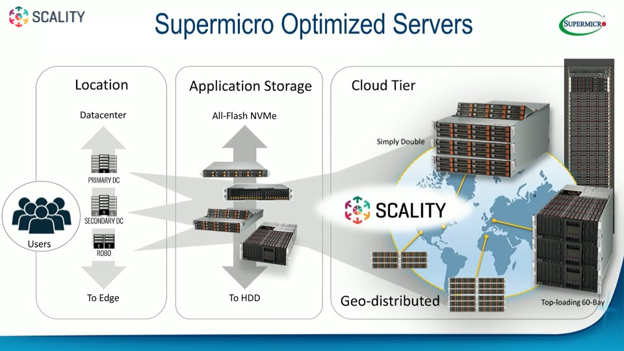 What this solution is for and how it is built?
Scality RING software is deployed on a server cluster, consisting of a minimum configuration of 3 storage nodes based on Supermicro servers (full or partial populated), it can be scaled over 100PB, and implements a whole set of access, data protection and system management services. Supermicro/Scality Storage can be implemented in 2 basic HW-solutions - as for Throughput Performance/Capacity Storage and as for High-Capacity Scale-out Storage.
Scality RING supports many data access protocols, including Amazon Web Services (AWS) IAM & S3 (compatible APIs with simple HTTP) based on Representational State Transfer (REST) ​​and Swift, and NFS file access (v4) , SMB / CIFS and FUSE. And Supermicro with their servers provides TCO and CapEx efficiency for hardware and easy future upgrades.
The solution is supplied as a fully assembled at the Supermicro factory with added Scality RING licenses, requiring additional pre-deployment on the customer's side and includes the following software components:
At the top level: scalable data access services (connector servers) are located, which provide data for applications via the protocols, as well as a supervisor for centralized management and monitoring of entire system and its health.
The middle tier of storage is a virtual distributed file system with a MESA DBMS for storing metadata, storage nodes, I/O-daemons and a web-based management portal. MESA provides object indexing and metadata management for the Scality Scale-out file system (SOFS) as an abstraction layer. One application can use multiple RING-connectors at the same time to access data, if needed.
The bottom layer of the stack is the distributed storage layer that forms the virtual storage nodes
To ensure high availability of object storage (up to "14 *nines" ) in Scality RING, instead of the classic RAID technologies, for various data protection mechanisms are used, optimized for distributed systems, including local and geographically distributed replication and erasure coding, and you can combine replication with erasure coding in one connector.
The examples of Scality RING implementations are government organizations, major hospitals and healthcare authorities, media-services companies and content providers, industrial manufacturers, as well as telecoms and cloud providers. "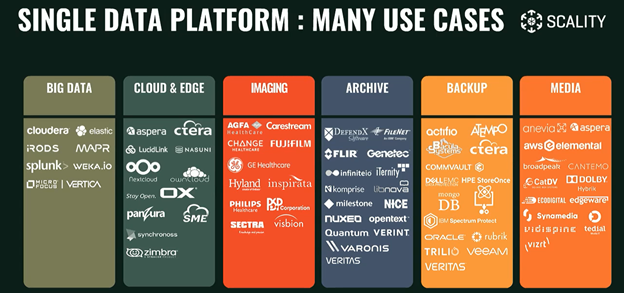 The solution delivers a petabyte-scale storage framework offering cost-effective scaling, performance, and resiliency paired with Supermicro's predefined hardware configurations that offer users an appliance-like deployment and service levels to meet enterprise requirements.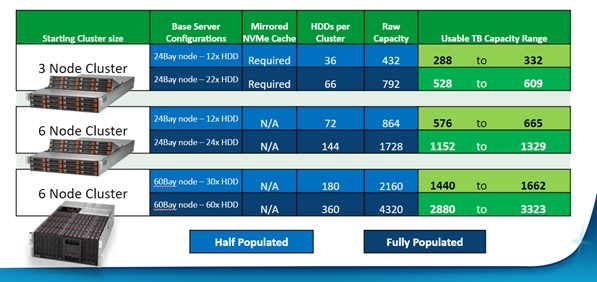 With these solutions, customers can deploy both performance-optimized and capacity-optimized storage, varied data durability levels, and small-to-large object or file support in a single global namespace. Users can operate and manage extremely large-scale, globally dispersed storage operations simply and cost-effectively, automating many common storage operations. RING Supervisor UI is a comprehensive, unified portal for all aspects of monitoring, management, and maintenance.
More information Supermicro Solution for Scality® RING®>>