Toshiba Europe Storage Device Division has launched three new 1.8-inch HDDs ahead of the Christmas shopping season. Developed to meet ever growing demand among consumers for high capacity portable media devices, the new range demonstrates Toshiba's ongoing commitment to market-led innovation.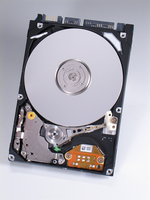 The dual platter 240 Gigabytes MK2431GAH is the world's largest capacity small form factor 1.8 inch HDD, created for use in leading brands of MP3 and personal media players. Its areal density of 344 gigabits-per-square-inch, is the highest to date on any commercially available 1.8 inch drive. Capable of storing the equivalent of 60,000 songs or 106 hours of DVD-quality video, the MK2431GAH represents the next step in a growing trend towards consumers storing their entire music and video collections on one portable device.
The MK2431GAH, which operates at 4,200 revolutions per minute, delivers an exceptionally fast seek time of 15ms (milliseconds) and energy consumption efficiency of 0.0013 W/GB. This product specification gives the devices containing Toshiba's new generation of HDDs impressive battery life, providing the optimum performance that today's information-hungry consumers demand.
Toshiba has also launched three single platter drives designed to offer similar levels of performance to lower capacity devices. The series includes 120GB MK1231GAL and 80GB MK8031GAL. A 60GB version of the drive is also available on request as a customer option.
Demand for high capacity small format storage continues to grow exponentially in the UK and beyond. A recent report on the communications market published by sector regulator, Ofcom, estimated that 45 per-cent of individuals in the UK now own an MP3 player, with 23 per-cent of households having access to a digital video camera.
The success of portable media devices, enabled by growing storage capacities, has been a key consumer technology trend in recent years. In its most recent Predictions report, business adviser, Deloitte, estimated that 100 million MP3 players have been sold worldwide since the beginning of the decade. The growth of next generation devices such as smart phones can only accelerate this trend.