Dell #1 Monitors brand Worldwide, has been at the forefront of innovation to bring the best of display technologies to our customers — from the ultimate in resolution, contrast and color, to immersive user experiences and unmatched usability.
KEY SELLIN POINTS:
Up to 25% better price with most specs same as professional P-series (check comparison below).
Height Adjustable System stand (10 cm) to make your monitor your own.
Large deal support for ASBIS partners
Integrated speakers to receive incoming notifications
A thinner profile than the previous generation and improved cable.
Guaranteed commercial lifecycle
3-year Advanced Exchange Service. If a replacement becomes necessary, it will be shipped to you the next business day during your 3-year warranty.
AMPLIFY YOUR WORK
Enhance your workspace: management create a smaller footprint, lending itself to a clean, uncluttered desk.
Plug in: Quickly connect legacy or non-legacy PCs with VGA and HDMI ports.
Adapts to your needs: Make your workspace your own with VESA-compatible mounts and stands.
Uncompromised testing: Rigorous development processes help ensure consistent, reliable performance in busy office environments.
Dell Display Manager's (DDM) Easy Arrange feature lets you quickly tile and view your applications side by side across one or more connected screens for multi-tasking efficiency.
If you need ergonomics features at lower price, new HS models is the best value for money!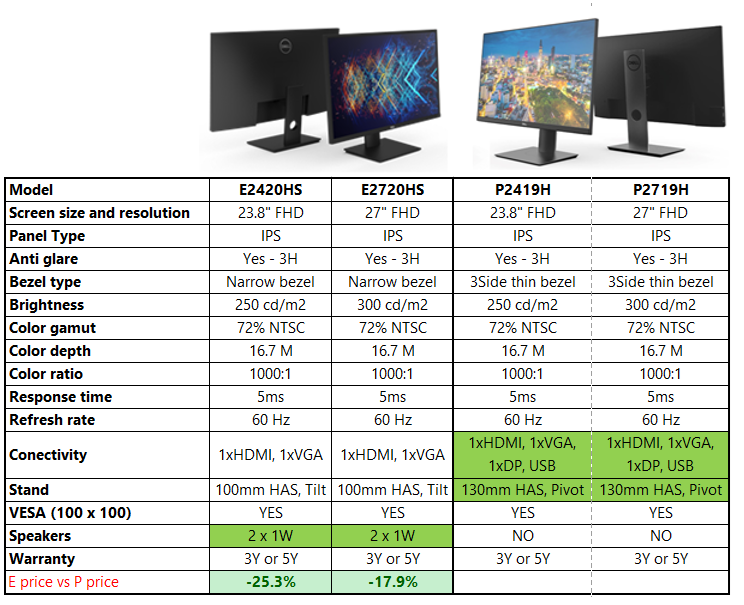 Guaranteed green: With a comprehensive ENERGY STAR®1 certified portfolio, E series monitors meet stringent, energy requirements while in sleep, on and off modes. These monitors are also EPEAT registered, TCO-certified and meets all regulatory and environmental standards.
Contact us to get more information or fill the feedback form and our Experts will communicate with you.