XpertVision, leading graphics card manufacturer, announces the dual graphics processor XpertVision GeForce™ 9800GX2. With the power of two GeForce 9800 GPUs in a single graphics solution the XpertVision GeForce™ 9800GX2 will exceed the expectations of gamers across the world with the fastest graphics card on the planet!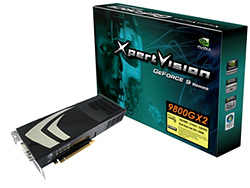 XpertVision GeForce™ 9800GX2 features a 600MHz core frequency, 256 blistering fast stream processors with 1GB GDDR3 memory operating at 2 GHz. It supports the latest HybridPower™ technology, XpertVision GeForce 9800GX2 allows the users to switch from the GeForce 9800GX2 graphics card to the motherboard GeForce GPU when running non graphically-intensive applications for a silent, low power PC experience.
Along with the latest PCI-Express 2.0 platform and Microsoft DirectX 10 Shader Model 4.0 technology, XpertVision GeForce™ 9800GX2 features the second generation PureVideo® HD technology engine, delivers unsurpassed Blu-ray and HD DVD movie picture quality, and offers full hardware acceleration of high definition movie. The integrated HDMI™ connector allows the users to send both high-definition video and audio signals to your HDTV via a single cable.